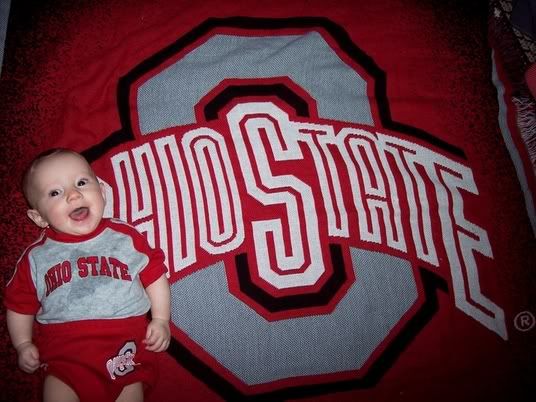 Today was the first
Ohio State football game
of the season. More importantly, it was a Buckeye Day. A Buckeye Day is any day when the Ohio State Football team plays a game. Buckeye Days are rare, only twelve or thirteen occur each year. Each of the dozen or so Buckeye Days are special. Everything we do on this sacred day is special. Today was Aveline's inaugural Buckeye Day.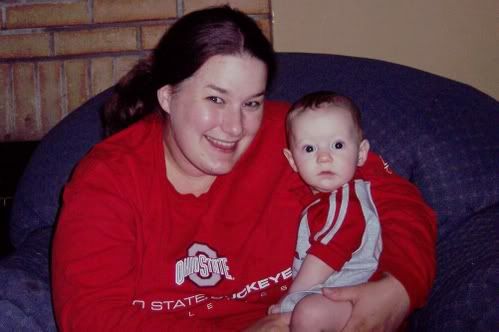 The first thing that occurs on a Buckeye Day, is the declaration of the event. Dan and I greeted Aveline early this morning, announcing the impending game. We sang Buckeye songs while we changed her diaper. We then chose a special ceremonial garment for the day....Her very own Buckeye attire. Once we were all dressed in our gear, we headed downstairs to have breakfast. A small departure from the normal Buckeye Day Breakfast was made, as we did not enjoy a beer with our eggs. Surely this was excusable since we had grocery shopping to do later.
We then packed up in the car and headed to our grocery store. We procured all of the necessary provisions for the game, and a few other staples. We planned our trip so we would be home before kickoff.
Once at home, Dan busied himself with the grilling of the hot dogs. He also found time to make some stadium authentic nachos while burning the wieners. There is something so good about pasteurized processed American cheese. Yummy!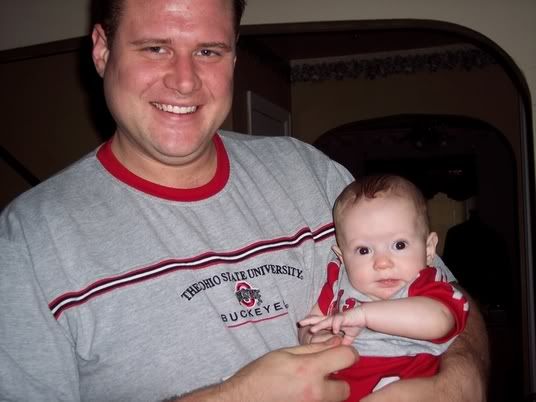 Steve, the newest member of our family, helped out on his first Buckeye Day too. The meal preparation took a bit longer than expected, so Steve taped the beginning. Did I say how much I love Steve, our TiVo?
We settled into our seats with our freshly prepared snacks: nachos with queso salsa, fresh, ripe tomatoes and sour cream and hot dogs, blackened from the grill, topped with ketchup, mustard relish and onions. Dan had a beer, I, a Diet Coke. Aveline enjoyed milk. (Side note: the new Diet Coke with Splenda is fantastic!)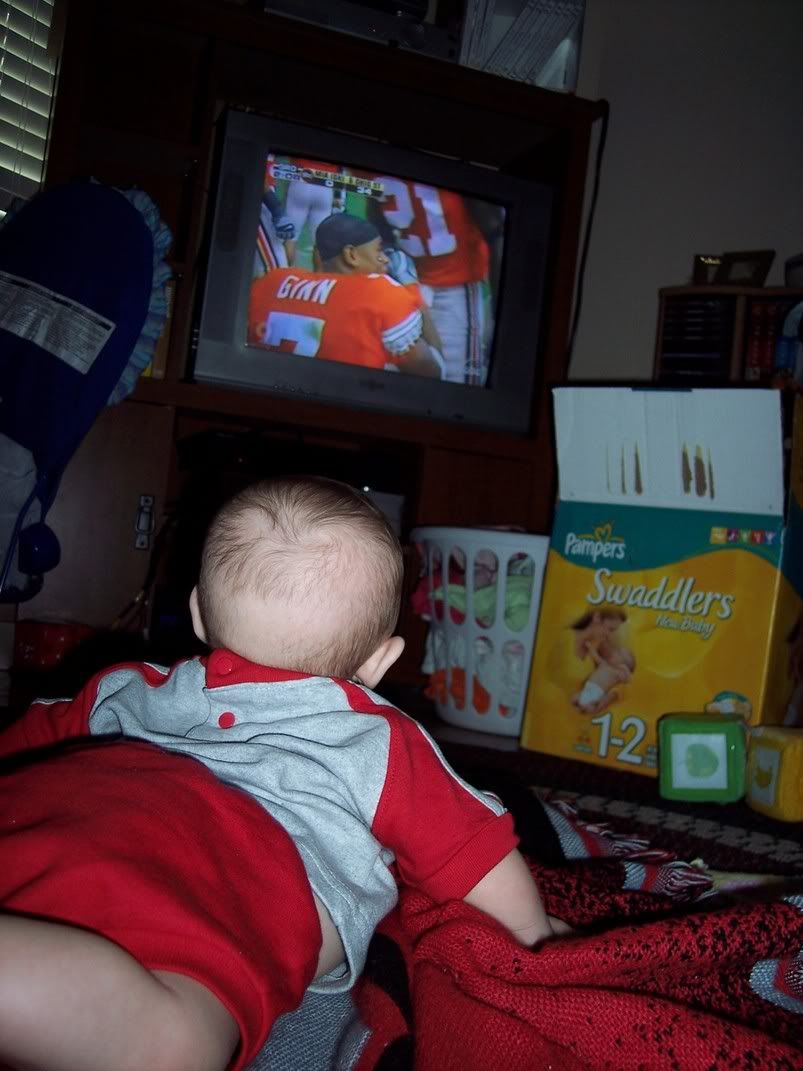 We also gathered treats for Elvis. Last year, Dan and I started giving Elvis treats when the team would perform a good act. Touchdowns, field goals, turnovers or key defensive plays would earn Elvis a bone. He is to the point that when we get excited and holler at the TV, he comes trotting in looking for his treat, offering high fives. No kidding.
After the game, we listen to the post game commentary and interviews, relishing in the victory.
We enjoyed the entire game. Aveline watched rather intently for being only 4 months old. We all agreed that the Buckeyes looked great today. Next week's menu includes Longhorns from Texas. It should be a good meal for the second Buckeye Day of the season.
Game Recap