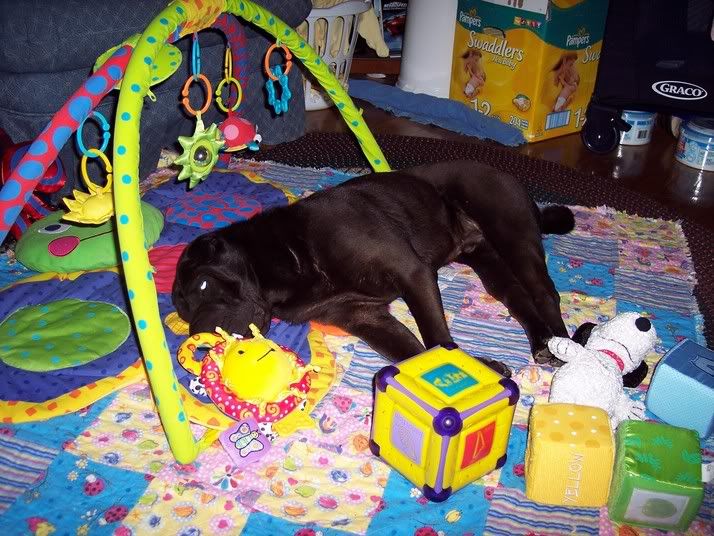 Our munchkin is now 12 weeks old. We have begun to retire some of her sleepers and outfits. She seems to have grown 2 inches this week alone! Aveline has eaten like a piggy for the last few days. Not only is she getting longer, but pudgier. I can't believe I was worried that we wouldn't have anything for her to wear in the 3-6 month size. I'm now worried she won't have enough time to wear everything.
Aveline slept throught the night last night. She went to bed at 9pm and woke up around 7am. She is always happy when she wakes up. Well, at least until she realizes she is hungry. I always try to change her diaper right away, and she always protests. She wants her breakfast and she wants it now! I remember her kicking like mad in the morning if I was late with breakfast during my last trimester. I guess some things never change.
We reorganized her closet, hanging the new size and pulling some outgrown outfits. Aveline enjoyed her swing during this.
I made enchiladas for lunch for Dan and I. I don't think Aveline liked them too much...she seemed to be gassy after I fed her a bottle from that meal. I will have to keep that in mind before the next round of enchiladas.
Tracy called today. It was good to chat with him. His daughter, Isabel, is 2 months old today. I can't believe how fast time has passed. He is enjoying his new job and house. Laura took a baby yoga class...I am so jealous. I will have to look into that in the area. We are going to try to set up some kind of a playdate soon.
Aveline and I went to Babies' R Us to return some items and get gifts for our friends. We did the same at Kohl's and Wal-Mart. We ended up at GFS where we purchased cheese, fruit, crackers and veggies for Emily's shower Saturday.
It rained a bit today...leftovers of Hurricane Dennis. We needed the rain.
The trick of the day today has been bubble blowing and excessive drool. I don't know what is up with that.
Elvis is ambivalent when it comes to Aveline, but not her stuff. I caught him napping among her toys, right after I picked her up.