Today was an extra special day for the princess: her six month check up. At this visit, she had her vital statistics taken, was given a once over by the doctor, and she was given boosters on her immunizations. Well baby visits are busy!
The appointment was at 9:30am in West Chester, so I was scrambling to not be tardy. Dan was going to meet me there, so I had to get Aveline fed, dressed and packed by myself. I also had to pump, dress and eat breakfast myself. I took the time to give her a bottle and the banana-cereal goop. The hearty breakfast was meant to tip the scales in my favor...no one likes a skinny baby!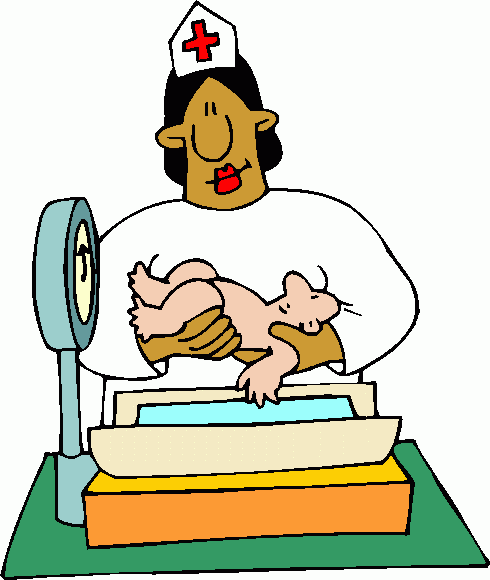 The nurse announced the weight: 15 lbs and 10 oz. Not bad. That is the 50th or so percentile. Her length was 26.75 inches which was the 85 percentile according to the doctor. I am keep the paper on which this is written so she can prove that she was tall and thin at least once in her life! She still has a big head. But it is nicely shaped, as every older woman I meet so kindly points out.
Dr. Hein joined us after a brief wait. He was still wearing his trademark earthtone courds and matching Eddie Baueresque sweater. His curly mop begged to be cut, pleading slightly harder than our August visit. He greeted Aveline with a "Hey Stinkereeno!" to which she grinned openly. Aveline loves Dr. Hein. She glows when he is in the exam room. She sat up like a big girl on the table, and proceeded to rip the sanitary paper to shreds. This delighted her! She gurgled and laughed as she tossed paper aside. Dr. Hein laughed with her. He explained her growth to us and gave us a nice pat on the back...The kind that new parents crave. He asked what new tricks she had. More praise came from the doctor as we explained her latest activities. Dr. Hein had a way of making us feel special. He made us feel like we were the best parents in the world and that we had the most perfect baby he had ever had the privilege of examining. I love Dr. Hein.
We agreed upon his suggestion to give Aveline a flu shot, given our occupations.
We waited in dread for the shots to be administered. She was so unsuspecting, playing with her toy on the examination table. The nurse came in with 5 shots. I held her hand, Dan, her legs. The nurse was very quick about it. Aveline's face reddened instantly with the first shot, but the scream did not escape until the third. She cried for a few minutes, but still managed to give the nurse a smile before she left the room.
She has been sleepy and cranky most of the day. She went to bed, awake, without protest. Tomorrow will be the worst day. Let's hope it is not so bad.