These days, I find my self stumbling towards the bathroom in the dark quite often. Last night, on one of nearly a half dozen potty pilgrimages, I stubbed my toe on a laundry basket that wasn't where it was supposed to be. As I seethed on the toilet, I realized I could have prevented this situation with one thing... a little light.
Five and a half years ago, I seemed to be stumbling through the darkness of my life. I dated awful men, made terrible decisions and had little purpose. I was stubbing my toe on every misplace laundry basket life could toss my way. It took something blind to open my eyes and bring light into my world.
Jill, my sister, called me one April afternoon with a proposal I usually would have refused: a blind date. She had met a new employee at the school where she worked who had a step son who seemed perfect for me. She bragged up his intelligence, good looks and burliness trying to sway my decision. I hesitated. She lived over two hours away. If we did hit it off, how feasible would a long distance relationship be? Do I want to work that hard? About to decline her request, I realized that my toe hurt. That I was tired of the dark world in which I was living, and a meek "Okay" escaped my lips. My mind and soul knew I needed a change.
We set up a time to meet. Jill handled all of the details. She and her fiancee would join us along with his father and step mother at a little restaurant Jill lived above in McComb, Ohio. I remember trying hard not to look too excited as I waited with my family at the table. Something felt good about this blind hallway I was entering, like the path was free and clear. His family arrived, without him. Introductions were made. I stared at his father. Would he look like him?
Five more tortuous minutes passed. I began doubting my decision to attend. What if he was a loser? How could I face this entire night with him and his family? Can I change my mind now?
I buried my head in the menu, hoping to hide any evidence that I was scared. As I mulled over which burger looked best, I heard his father say "Oh! There he is." My heart throbbing, I slowly lowered the menu and raised my eyes. Approaching was a stunningly handsome man, brandishing a maroon plaid short sleeve shirt that screamed office work. I blinked, quite a few times, as it felt almost uncomfortable. My eyes finally adjusted and everything was clear. I seemed to know. I was able to see. Someone turned the light on for me. That someone was Dan.
The rest of the night went very well, as some of you may have guessed. We waited a few weeks and had our first real date, alone. We spent the next couple years together, in the light. Three years ago today, I married my light. The only stumbling and toe stubbing for me now are from displaced baskets and stray baby toys I did not see, but not for lack of light.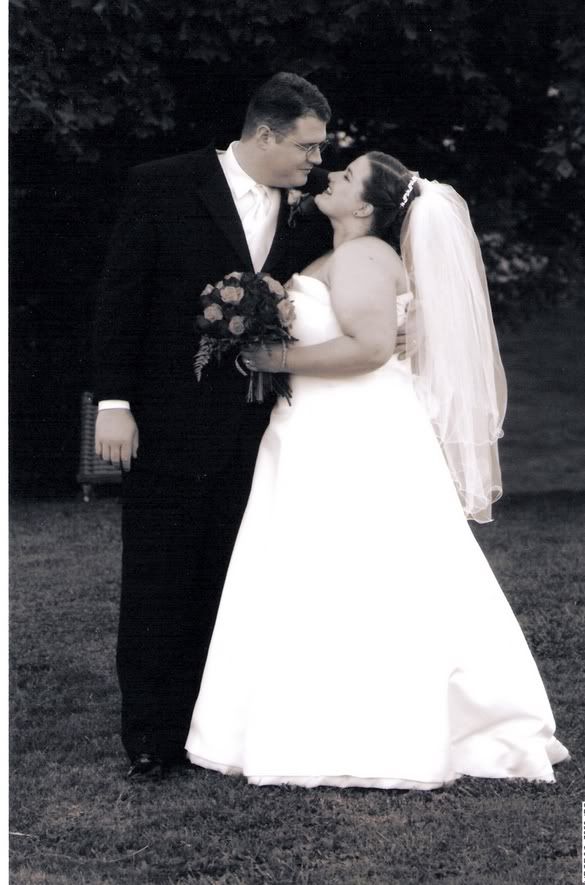 Thank you, Dan, for bringing light into my life. I hope we have many more years together before the darkness comes.