A fortnight has passed since Scarlett was born. I am amazed by how much she has changed in two short weeks. Just thought I would post a few notes on her progress, to help me jog my mind when I finally start filling out her baby book.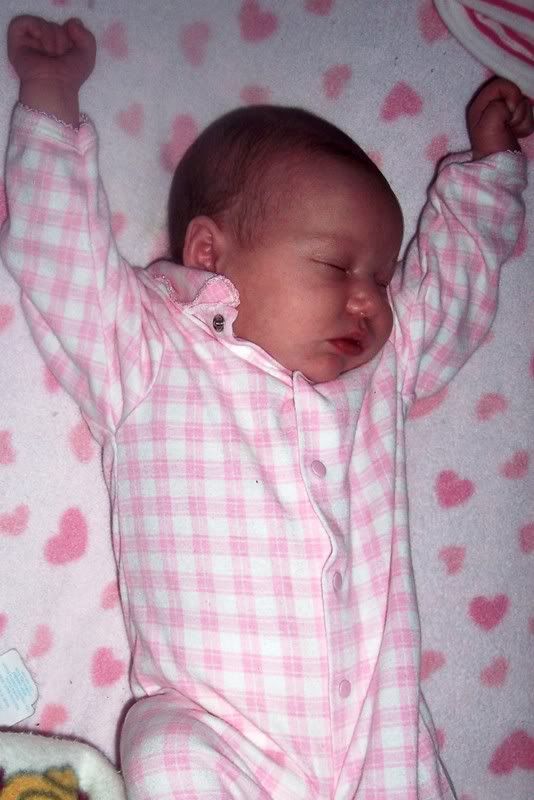 She is a great eater, not that we are surprised. She got it honestly! She is able to suck down her bottle of breastmilk in the blink of an eye. We have to take special care to slow her down by burping her every ounce or two.
When she wakes, she immediately wants to eat. She can go from whimper to wail quickly if her wishes are not met.
During tummy time, she is able to turn her head from side to side. She also can briefly hold it up and look forward.
She loves snuggling. After having a rambunctious toddler, it is nice to quietly snuggle.
She is making more noise. Grunts, whimpers and squeals escape when she stretches.
The stretching must be working, her 0-3 month sleepers are starting to look a bit short.

She has been sleeping well, usually 4 hours or so at night and 2-3 hours at a stretch during the day. She did sleep six hours the other night, much to my delight!
She loves studying our faces. She also gazes at her toys and has discovered her hands. She responds to our faces, raising her eyebrows, mimicking an outstretched tongue or just by slightly curling her lips into the faintest hint of a grin. I can only imagine what she thinks of us.
Overall, she is an easy going baby. She eats and sleeps with little fuss. Her personality seems pleasant so far. I think we might keep her.