Due to our aforementioned occupations in the retail/restaurant industries, the holiday season is a busy time of the year for us. Not only do we have numerous family obligations, but we have to work extra hours on top of that. Coordinating schedules with family gatherings is a nightmare. With two small children, any hiccup in either work schedule causes panic on par with an alien invasion. Good, trusted child care is nearly impossible to find as it is, let alone people who are not busy during this joyous time who would want to care for a needy infant and a boisterous toddler on short notice. But I digress.
Dan worked in the morning on Thanksgiving day, so we planned on having our feast for dinner. He (yes, he!) began cooking when he got home around 4pm, while I oversaw the offspring. The meal was very traditional: twelve pound turkey, mashed potatoes, gravy, stuffing, rolls and cranberry relish. We sat down at 7:30pm to enjoy our dinner together. Scarlett was already sleeping for the evening, which allowed for us to eat as a family. Aveline enjoyed everything on her plate. She even used a fork for a few of the bites. It was turning out to be an ordinary holiday until she began to cough on a too big bite of stuffing. She spit the stuffing out and continue to work something out of the wrong pipe. It dawned on us what was about to happen. Aveline has a hair trigger gag reflex. What goes down sort of wrong, brings everything back up with it. She vomited all over us, the tray and part of the table.
pajamaed
and sipping a rare milk cup in her crib. Dan and I settled back at the dining room table to finish our tepid turkey. The stench of Lysol mixed with puke drenched the air. Before the first forkful could reach our mouths, we heard a loud crash from the kitchen. Puzzled we glanced at each other and then at Elvis, who had not left his spot beneath the table. That is when Dan realized what happened.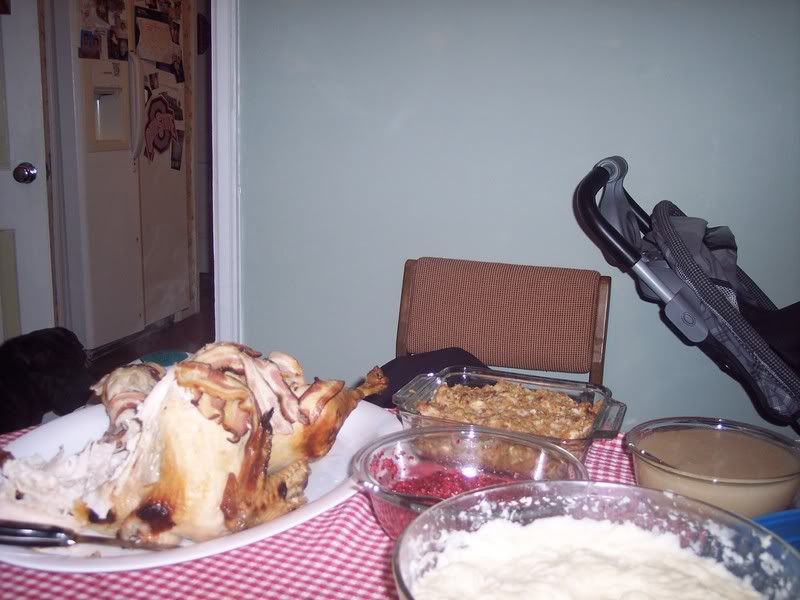 Thinking the rack just shifted, I reached into the oven to remove the pan. I only pulled out half. The Pyrex broke in the oven, spilling stuffing onto the oven floor. Dan calmly shut off the oven and opened the door. We returned to the table to finish our meal before cleaning up. We finally finished dinner around 9pm. It will be one we remember for awhile.