I don't usually plug products unless they astound me. Anything that keeps mealtime mess to a minimum is astonishing.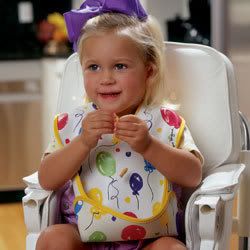 This bib
rocks. We used other large bibs that were put on like a shirt. They protected her shirt, but we always eventually had food on her lap and rear. We also had to launder those in the machine, which was a pain. This bib is a durable vinyl and cloth. You can wipe it off with a sponge for a quick clean up, or in the dishwasher or the washing machine if you like. The plastic snaps are secure enough that a frustrated toddler is unable to rip it off in a fit of passion, yet a parent can easily remove it when necessary. The bottom of the bib snaps/unsnaps to form a pocket that really catches everything. We rarely find any food on Aveline's clothing. It has been a real sanity saver. And it comes in many cute designs!
I highly recommend that anyone with bib wearing children get this bib. It might change your life. We found ours at
Meijer's
, but I'm sure fine retailers anywhere carry this quality bib.