I haven't taken many pictures lately as I am still adjusting to our new schedule. Zapping thirty hours or so out of your week sure puts a wrinkle in things.
I did happen to snap two pictures today. I am surprised for as little as I photograph my children, they are more than able to smile on cue. Scarlett is just starting to perk up for the camera, while Aveline practically mauls me chirping "SMILE!!!! SMILE!!!" as I scramble to snap the shot.
This is Scarlett in her new command center. She loves being in this plastic fortress. It provides her with the upright view of the world she demands and protects her from over zealous toddler love attacks.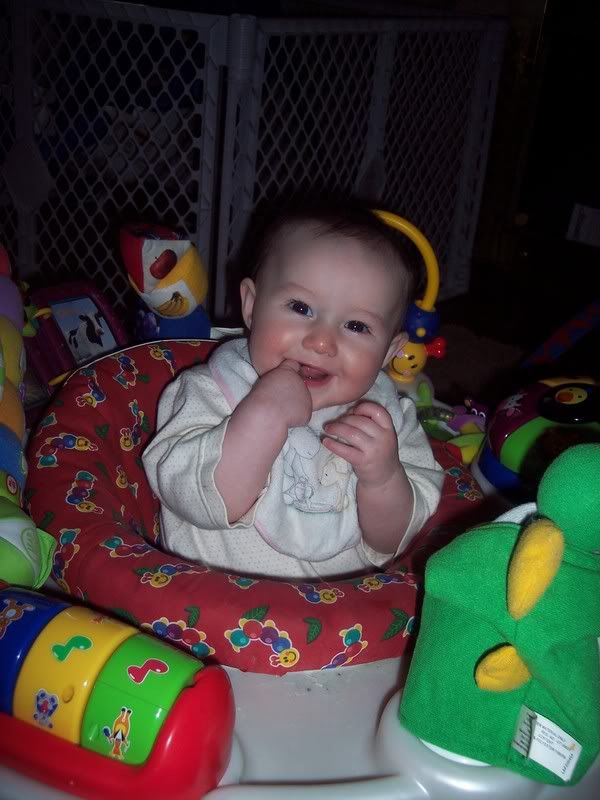 Aveline is settling down for the night in this photo. Notice the precise placement of both Snoopy and Bear. We have recently introduced a pillow into her crib as well as blankets. During our tucking in routine, we have her lay down and we place the blankets over her and wish her goodnight. She responds by making a fake snoring sound after wishing us "Night, night." She will often announce during play time that it is time for bed and proceed to either lay down herself with a blanket, or require that you lay down so she can place a blanket on you. After you are tucked in, she begins to make the fake snoring sound. It is truly precious.