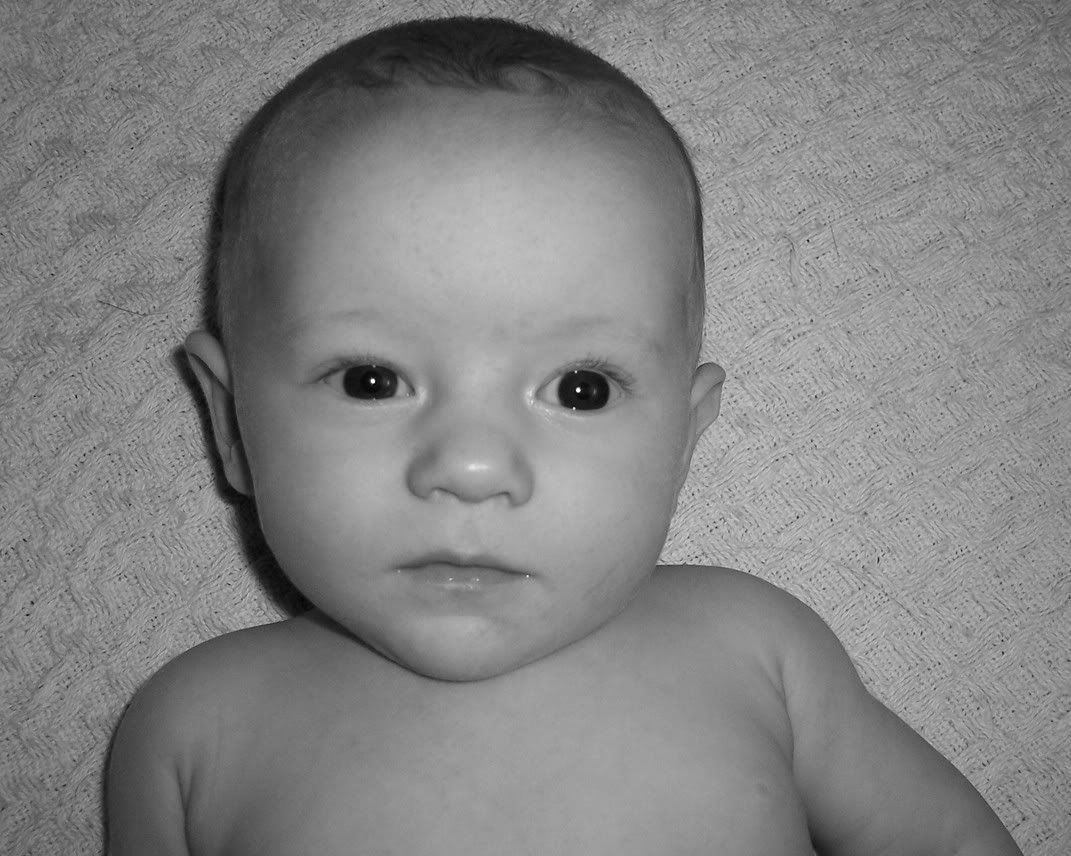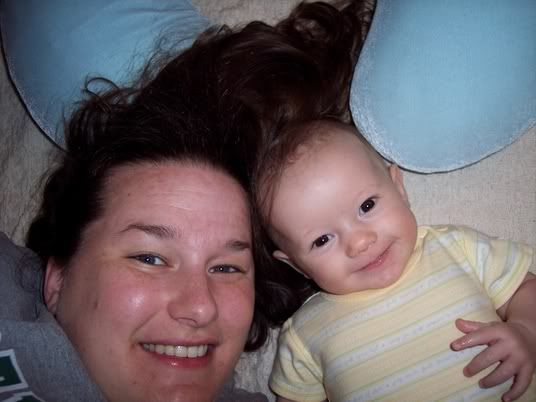 Aveline joined our family three months ago today. It seems as though time has flown and stood still all at once. Part of me can't believe she is that old already. The rest of me feels as if I've aged ten years. Some days zip by, like when we play all day with smiles and have errands to run. Other days drag reluctant heels, especially those nights when she screams and screams and will not sleep. Today was a dragger.
It started wonderfully. The Princess awoke at 8:30am, having slept late. Mommy (also known as the Queen) was able to pump, check email, make myself a cappucino and straighten up the living room before she giggled awake. She is such a morning person. Day Out. She ate a ton and then settled into her Lazy Bouncy to enjoy an episode of Sesame Street. The singing and dancing vegetables reminded me to start lunch.
Dan and I tried this amazing
recipe
that I found on my favorite
recipe
site,
Recipe*zaar
. It was for
Beef and Broccoli
, an Asian influenced dish. I served it without rice, to save some calories and carbs. (Saving them up for my bowl of ice cream at the end of a hard day!) The meat, poor man's filet, aka chuck eye steak, was so tender and juicy. The sauce tasted better than every Chinese restaurant I had frequented. And the vegetables were the most perfect combination of tender-crisp. I hate to pat myself on the back, so I won't. It was all the
recipe
....please try it out! It was super easy and I prepared it in a half hour or so, start to finish. That is pretty good considering all of the vegetables I had to cut!
After lunch, Dan and I discussed our plans for our "plan free" weekend. We are hoping to unpack some more boxes and clean. I put together a very ambitious list which he promised to look at (and probably edit) tonight.
Dan retired early so that he could get up and help me before work. I really love it when he does this. Just a half hour of his time saves me an hour. I can pump while he is giving her a bath and getting her ready for bed. He then hands her to me and I give her a fresh squeezed bottle to knock her out for the night. Meanwhile, he grabs some breakfast and gets ready. I think it is really helping all of us out. Dan gets some special time with Aveline, gets a good meal in his belly before going to work on time. I don't have to soothe a cranky baby with my foot on the bouncy chair while my hands are busy making her dinner. Aveline gets some special time with Daddy and the attention she deserves. It also relieves a ton of my stress. And I get to see Dan a bit more before he goes to work. It is a win/win/win situation.
I did a few loads of laundry today, ironed Dan's work clothing, cleaned the microwave, did dishes, scrubbed the counters and picked up the living room. I need to get more done tomorrow. Aveline had a rough afternoon. She was very fussy most of the day. She also seemed a bit bloated. I treated her for gas and she slept for a bit. She did her share of screaming though.
I took some pictures of Aveline today. Ok. I do that everyday, but today I took more. Some black and whites, posed and candids. I glanced through some pictures of her from the first week, and marvelled at how much she has changed. I guess that prompted me to take all of the photos I did. I realized that no matter how quickly or slowly time seems to pass, it always will. The only way I can stop it is through my photos. The only way I can hold on to this day is through my writings and my photos. This very ordinary, heel-draggin' day.