In twelve days, the Ohio State Buckeyes will travel north to face a reeling Wolverine team. This will be the 102nd meeting of the two teams, spanning more than a century of interstate rancor.
This hatred is almost instinctive, amongst fans. Young Buckeyes are taught about this state prejudice early and often. The "M" word is often omitted from conversations around small children in Ohio. Parents sing "Carmen Ohio" as a lullabye to sooth cranky babes. Many youngsters think that scarlet and gray apparel is the only choice for an autumn Saturday. Teenagers rebel against parents by rooting for the opposite team. College visits are often limited to one school, and seniors are given the tour by their over-eager alumni parents. The hatred is passed down from generation to generation, as a heirloom necklace or chair would be. It is tradition.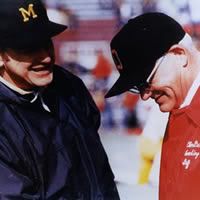 One of my favorite quotes from Woody Hayes, former Ohio State football coach, sums up the general hatred that all Buckeye fans have for the "Team up North." In 1968, after Ohio State scored late to build a 50-14 lead on Michigan, Woody ordered a two-point conversion. When asked why he would do such a thing, he responded, "Because I couldn't go for three."
In twelve days, The Game will be before us. In twelve days, our loathing will grow into a repugnant disgust ripe for consumption. In twelve days we will know the enemy.