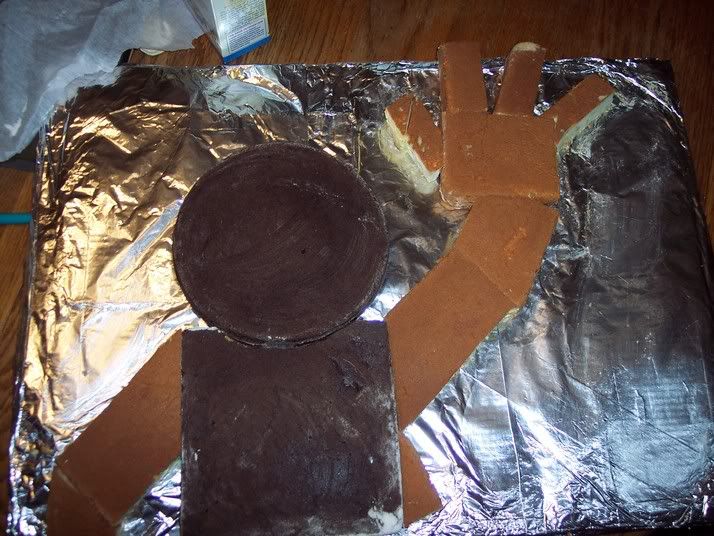 When I was young, my mother would take extra special measures each year to bake a cake creation. We had cakes shaped like bunnies, butterflies, various monsters and many others. She would create the cake herself, planning the shape, even finding edible accesories to decorate it. It was fun to see what she would dream up each year. I decided to continue the tradition she started with Aveline. It is hard work, but it was also so much fun. Edible art. Yummy.
I decided Elmo would be the perfect cake for Aveline this year. The adorable red monster is clearly her favorite. I started by sketching Elmo in various positions. I definitely used the internet to help since I am no artist. Once I found the position I liked best, I scaled it based on my round 9 inch cake pan, which I planned to use for his head. Using a 1:9 scale, I calculated the remaining components of my sketch. From that I estimated the amount of cake I would need.
I then baked the cakes. In the end, I used three cake mixes to construct the monster. I wrapped and froze all the cakes. Once they were frozen, I used my calculated measurements to cut Elmo's parts. I then pieced him together.
The next step was his skin and fur. I whipped up a triple batch of frosting which I dyed pink. I tried for red, but pink was the best I could muster. I then added 24 oz of red dyed coconut to serve as his fur. I had to act fast, pressing the coconut to the frosting before it dried.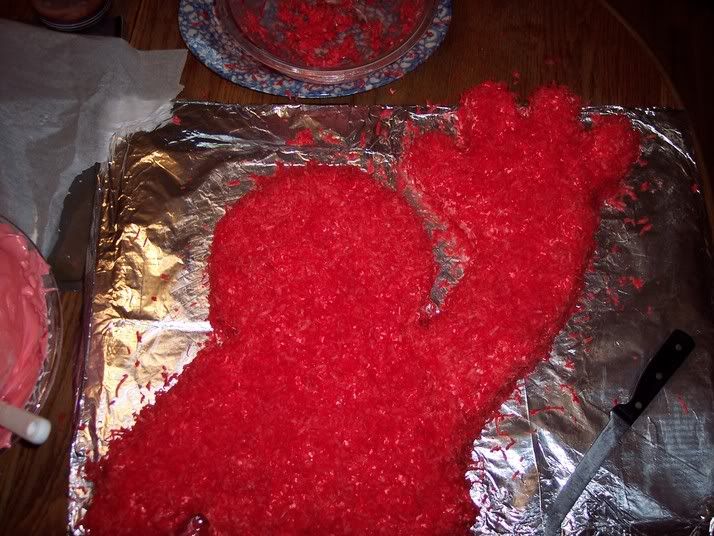 I took two desert cups and placed them where Elmo's eyes would be. I doused them with some of the gooey white frosting I had made. I then painted his pupils on with store bought black icing. I may have added a bit too much, because Elmo appeared stoned. Oops. I used the black icing to form a mouth and finished his face with gummy orange slices I attempted to fashion into a nose.
I was very pleased with the cake, with the exception of his face. I was a bit pressed for time, so I don't believe I did the best I could. Next time, I will probably make a template of his mouth to nail the shape. I also would use toothpicks to create a more three dimensional nose. I guess I have many more birthdays to perfect my technique!