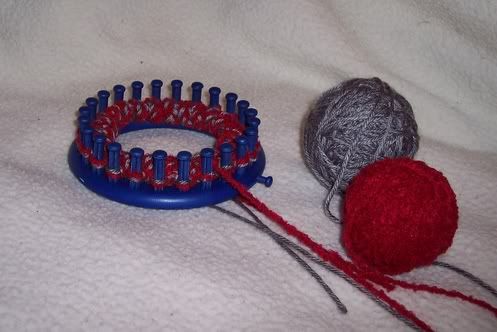 I think I may be nesting. I have this overwhelming urge to create things from yarn. I bought this contraption at Meijer's and have not been able to put it down. It is called a
Knifty Knitter
, and I am an addict.
I have so far made five hats and have started a baby blanket. The only thing holding me back right now is my lack of yarn. I have dreams of knitting scarves for each member of my family, gloves, mittens, afghans and whatever else I desire. I might even try to knit a g-string. Why not? This contraption makes knitting anything so easy. And did I mention it is knifty too?
I am currently experimenting with different styles of hats. I cranked these hats on the right out in an hour each. They are baby hats for The Deuce.
The larger I grow, the less and less I am finding suitable activities to keep me busy. Any sort of physical activity wears me out in 15 minutes. Knitting seems to be the perfect way to keep my idle hands out of the devil's employ.